As the 'Engineering firm of choice since 1972', we are focused on becoming the most sought after provider of municipal, commercial, and residential consulting civil engineering and surveying services throughout Pennsylvania.
We are committed to delivering the most creative and highest quality civil engineering and surveying services in a timely manner with the greatest value to our clients.
Our firm represents many municipalities in the Greater Lehigh Valley and Pocono Regions. Our personnel regularly provide engineering services to the municipalities we now serve and, therefore, we feel that we are well qualified to serve you in this same capacity. These services include, but are not necessarily limited to inspection; roadway, bridges, storm sewer, sanitary sewer and water system design; sewage enforcement officer services; postal address systems; subdivision and zoning ordinance technical revisions; traffic studies; roadway improvement programs; Wetland delineation / Phase I Environmental Site Assessments and sewer system infiltration/inflow removal programs.
In 1972, Frank G. Waldraff founded Waldraff Associates. Formerly an engineer at a large local manufacturing company, Frank had always bristled at its hierarchical "top-down" style of management, which he described as "people parading around wearing stripes and expecting everybody to salute them." As a result of this experience, Frank knew exactly the kind of engineering firm he did not want Waldraff Associates to be.
Instead, Frank empowered people by treating everyone as equals. The end result was a company of people, who cooperated with each other and consulted with clients in order to exceed their expectations by working efficiently and expeditiously.
In 1984, Waldraff Associates changed its name to Keystone Consulting Engineers (KCE). Frank retired in June 2002, but his management style inspired a highly motivated 'culture of people' that have embraced the same client service orientation and work ethic that he brought to the office every day. KCE's low employee turnover and high average years of per-client service are a testament to the level of satisfaction enjoyed by both KCE's staff and its clients. Furthermore, the Greater Lehigh Valley Excellence in Business Award, presented to Keystone Consulting Engineers in 2007, is a testament to Frank's exceptional mentoring and management philosophy.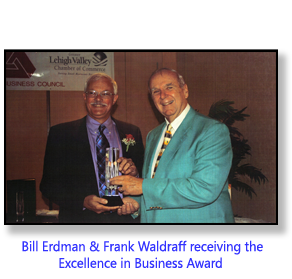 Keystone Consulting Engineers, Inc. delegates total authority for each client project to a specific KCE employee or team. This philosophy provides a more direct link between the client and the project manager and eliminates the second and third-hand layers typically associated with a "top-down" style of management.
KCE clients can consistently rely on the same qualified individuals year after year. In turn, our personnel develop long-term relationships and a great synergy with clients, thus enabling the project manager to better anticipate and satisfy their needs.
As an award-winning, multi-discipline civil engineering firm that provides a full spectrum of engineering services in a wide range of fields (precision boundary and topographic surveying, municipal engineering, subdivision and land development, highway and traffic engineering, environmental engineering, and construction inspection services), Keystone Consulting Engineers, Inc. aspires to deliver through our dedicated and empowered employees, reliable and cost-effective service to our clients.
Our Integrity and Expertise
Municipal engineering is the "foundation" of KCE. Consequently, the firm does not take on new clients with private engineering projects located within any of the municipalities where KCE is the municipal engineer, ensuring complete objectivity.
For private land developers, our vast municipal consulting experience helps their plans obtain the required municipal approval. Because KCE performs both municipal representation and private land development work, our engineers fully understand both sides of the approval process. For municipalities and developers alike, KCE's knowledge, experience, and commitment allow us to deliver unmatched project quality, timeliness, and cost-efficiency.
Keystone has been in practice of civil engineering since June 1972 and has provided civil and consulting engineering services to numerous municipalities, authorities, and land developers throughout the greater Lehigh Valley and Pocono Regions areas. KCE is a wholly-owned Pennsylvania corporation with nineteen stockholders. Founder Frank Waldraff, wishing to provide younger, key employees with the opportunity to participate in the company's growth and leadership, established an orderly and planned management transition process. The Company is founded on a unique management approach which delegates total authority for each client or project to specific, qualified individuals. This provides a more direct link between the client and our firm and eliminates the administrative overhead associated with a "top-down" management style. This management philosophy provides cost-effective engineering services.
At Keystone, the client can consistently depend on the same qualified individual. In turn, our personnel can become increasingly familiar with the client and its needs. Depending on the situation, the individual engineer will consult with other senior staff personnel who have a broad range of both educational and practical experience in specific areas of engineering. In addition, the company promotes continued growth through seminars, education, and on-the-job training. The result of this management style and educational program is evident by the low employee turnover and corresponding high average years of service per employee. In 2009, Albert R. Kortze, P.E., a 20-year veteran engineer, was named President/CEO.
The staff presently consists of approximately 70 engineers, surveyors, and technical personnel, including fourteen (14) Registered Professional Engineers, two(2) Registered Professional Land Surveyors, one (1) Registered Geologist and one (1) Registered Landscape Architect. The principal office is located at 2870 Emrick Boulevard in Bethlehem, Pennsylvania with branch offices at 5012 Medical Center Circle, Suite 1 in Allentown, Pennsylvania and 863 Interchange Road, P.O. Box 639, Kresgeville, Pennsylvania.
Albert R. Kortze, P.E., President & CEO
Alan R. Fornwalt, P.E., Vice President
Kevin J. Horvath, P.E., Treasurer
Frank J. Clark, Secretary
Eric S. Snyder, Member
Ryan D. Christman, C.B.S.I, C.S.I. 
Sean Dooley, Ph.D, P.E.
Douglas B. Harwick, P.L.S.
Kevin J. Horvath, P.E.
Albert R. Kortze, P.E.
Keith T. Lawler, P.E.
Christopher J. Noll, S.E.O., H.M.I.
Thomas P. Ross, P.G.
Karl Scherzberg, E.I.T.
David Alban, Jr., P.E.
Frank J. Clark
Thomas K. Deily
William A. Erdman, P.E.
Alan R. Fornwalt, P.E.
Mark D. Heffner
Elisa A. Highley, E.I.T.
Daren J. Martocci
Brian K. Melendez
Timothy A. Miller, P.E.
Scott T. Pasterski, P.E.
Robin L. Robertson, P.E.
Joseph N. Santilli
Jason L. Schweyer, R.L.A.
J. Scott Stenroos, P.E.
David J. Tettemer, P.E.
Stephen T. Gitch, S.E.O.
Eric S. Snyder, P.E.
Darrin Heckman
Dean Zimmerman
Ron Neher